Plumbing Company in Toledo, OH
Rooter Pro Sewer & Drain Cleaning is a family-owned and -operated sewer and plumbing company, dedicated to preserving the integrity of your plumbing. We use state-of-the-art technology to locate problems and fix them the right way—no guesswork involved! Call us today to get the plumbing services you need. We also offer after-hours emergency services for your peace of mind.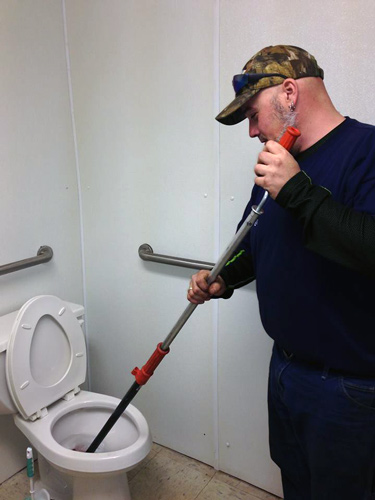 If Water Runs Through it, We Do it!
The dangerous thing about plumbing problems is that even small issues can quickly get a whole lot worse. A small leak can turn into a burst pipe or a clogged drain can affect your entire sewer line—unless you get reliable plumbing services in Toledo, OH from a plumbing company like Rooter Pro Sewer & Drain Cleaning.
For more than 40 years, we've been helping home and business owners prevent these small plumbing problems from turning into bigger ones. The foundation of our services is preventive maintenance—things like drain cleaning, foundation tile cleaning, sump pump installation, frozen pipes repair, water heater service, video drain line inspections and more. We're dedicated to solving small problems the right way, to protect the integrity of your entire plumbing system. And, if they do happen to get worse, you can still call on us for service and repairs to get everything set right again.
Our team has become the go-to provider for plumbing services like sewer cleaning in Toledo, Shoreland, Lucas County, and Alexis Addition, OH because of our high-tech approach to maintenance. Using video inspection lines and electronic sounding equipment, we're able to make more informed decisions about repairing your plumbing. We never guess—instead, we get to know the problem and approach it the right way. With an emphasis on fast, affordable plumbing services, we're not just in the business of solving plumbing problems—we're on the forefront of preventing them!
Trust us with your sewers and drains!
We don't believe in guesswork. That's why we use advanced technologies and powerful equipment like video inspection tools and electronic sounding devices to solve problems.
Our entire range of capabilities is available to residential and commercial clients. No problem is too great or too small for us to identify and resolve.
We've been serving the local community since 1978, with a consistent staff that's been with us since the very beginning.
Have an emergency? We offer 24-hour emergency services for your convenience, to prevent issues from getting worse and costing you more.
We're dedicated to customer satisfaction. We offer senior citizen discounts of 10% and proudly maintain a superior rating with the Better Business Bureau (BBB).
Contact the Plumbing Services Pros
Got a plumbing problem that needs a reliable resolution? Contact us today! Using state-of-the-art equipment and decades of expertise, we'll fix your problem the right way, the first time.
Servicing sewers, drains and pipes in home, restaurants and commercial businesses across Toldeo OH
CLAY CENTER, OH
CURTICE, OH
ERIE, OH
HARBOR VIEW, OH
HOLLAND, OH
LEMOYNE, OH
Ottawa Hills, OH
LUCAS COUNTY, OH
MAUMEE, OH
MILLBURY, OH
MONROE COUNTY, OH
NORTHWOOD, OH
Point Place, OH
Swanton, OH
OREGON, OH
PERRYSBURG, OH
ROSSFORD, OH
SAMARIA, MI
STONY RIDGE, OH
Waterville, OH
SYLVANIA, OH
TOLEDO, OH
WALBRIDGE, OH
WILLISTON, OH
WOOD COUNTY, OH
Whitehouse, OH